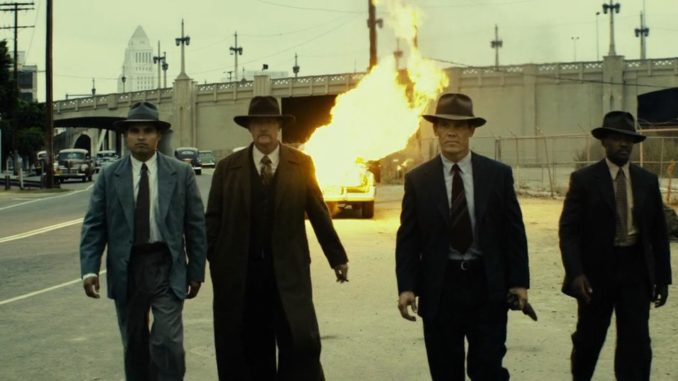 Šon Pen sa lažnim nosem a ne glumi Virdžiniju Vulf !
1. Ako ste pravi filmofil ovaj film će te poželeti da pogledate zbog:
Osim Šon Pena ovde su nam i Josh Brolin, Ryan Gosling, Robert Patrick, Nick Nolte… a tu je i Emma Stone.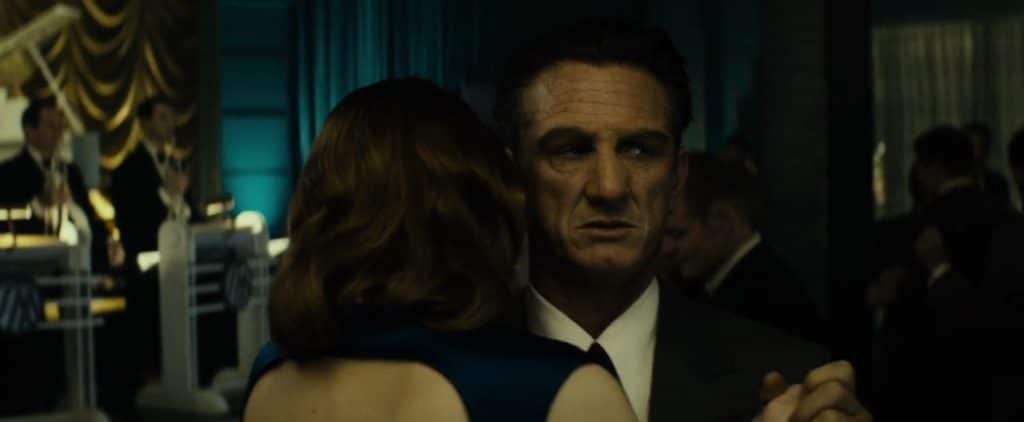 2. A gledali smo ga :
Eliot Nes. Znate li vi ko je bio Eliot Nes ? Napr. zamislite našeg trenutnog ministra policije inače doktora. Zamislili ? Okej. E pa deco draga, Eliot Nes uopšte ne liči na dr. Stefanovića. Zato sada zamislite nekog ko je sasvim, sasvim različit od njega.
E to vam je Eliot Nes.
"Gangster Squad" liči na "The Untouchables" (bez Eliota Nesa).
Josh Brolin nije Kevin Costner a još manje je režiser Ruben Fleischer Brian De Palma.
Neki put stvarno ne znaš šta je gore. Da liči ili da ne liči…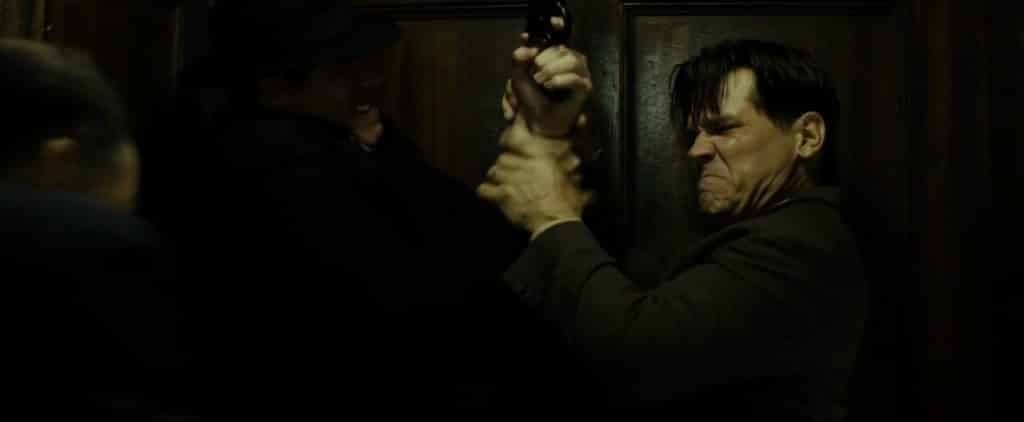 3. Glavni razlog zbog čega će te ga (možda) odgledati do kraja:
U prvih 10ak minuta Fleischer nam servira nekoliko veoma nasilnih scena čime, mislimo bar tada, nagoveštava da ćemo prisustvovati jednom epskom prikazu borba dobra i zla. Provlači se tu i neka doza humora. Super. Biće ovo i zabavno… a onda nas poklopi ostatak filma…
4. Dvougao:
Brzo će se pokazati da je početak filma samo uprskao stvar. Kada odmah, bukvalno, raspoloviš čoveka na dva dela (uz sve karikarano stripovsku ulogu negativca koju nam Pen Šon sve vreme pruža) onda bilo koja sledeća "grozna" scena nije niti iznenađenja a niti zabavno. Neki put je za previše nečeg dovoljno i samo malo a kamoli kada ga ima previše. Kapirate ?
(Presoljena čorba ne prija… Šta će ti treći kada su već dva loša dovoljna za ubijanje Miloša… Zamislite kako bi zvučala ona pesma 'Deset ljutih gusara' da ih je bilo dvadest i sl…..shvatate valjda sada šta hoću da kažem…)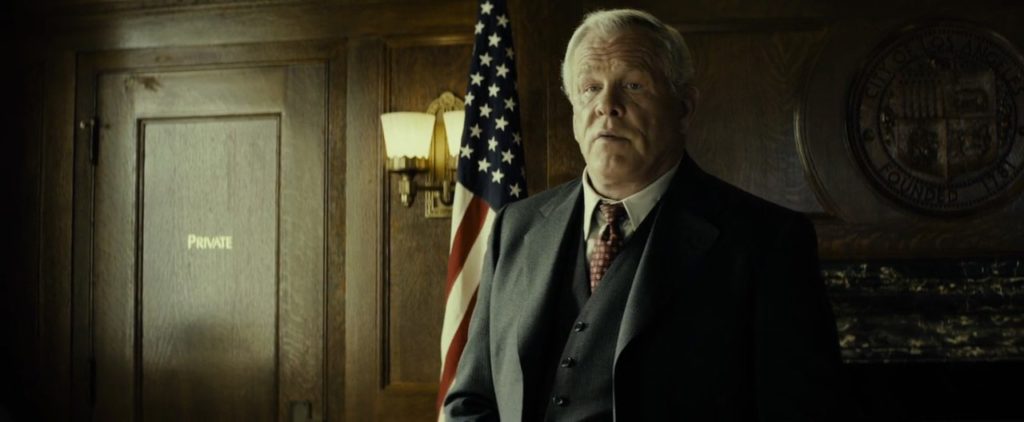 Pomislih, kada sam video Brolina (koji ne liči na Kostnera) kako mnogo liči na Nik Nolta. Kad ono, ne lezi Vučiću, pojavi se lično i Nolt. E to je bilo lepo.
Elem, za razliku od kastinga (podele uloga) koji je na kraju, ispao sasvim korektan "Gangster Squad" se propisno obrukao sa scenarijem i akcionim sekvencama. Ja razumem da naši heroji i ne moraju biti baš najbistriji ali kada se bore protiv istih takvih kriminalaca onda je to malo mučno za gledanje.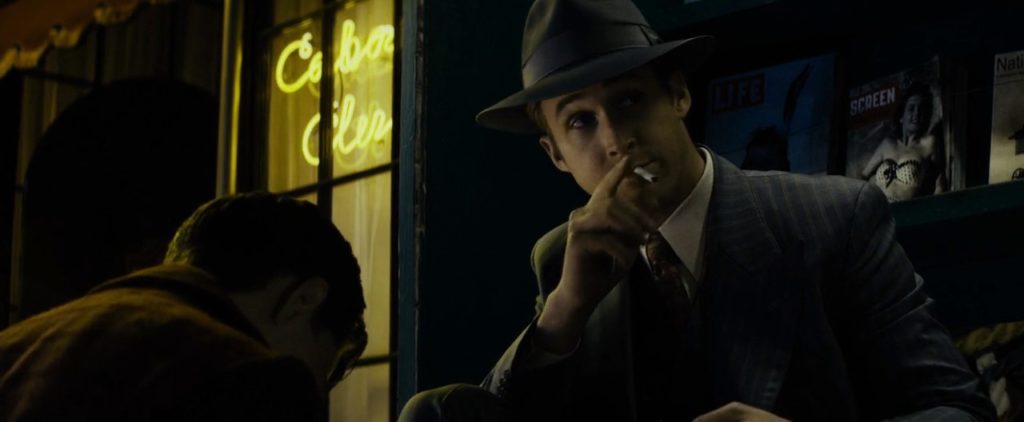 Takođe, lep je to vizuelni omaž onim starim crno belim gangsterskim filmovima (sve sa starim Linkolnima i Šervoletima i puškaranjem iz mitraljeza) ali previše sve ovo liči na crtani film. Dođavola (nek mi oprosti Vučić), možda je neko mislio da je ona scena jurnjave sa sve bacanjem i prebacivanjem bombi/dinamita iz kola u kola stvarno zabavna ali… smešno je i naivno sve ovo.
On the other side (of moon) ima "Gangster Squad" stvarno zabavnih trenutaka i nekih (retkih) ubedljivih akcionih scena.
On the other of other side (of moon) nije mi baš jasan lik koji tumači Emma Stone. Totalno fake izgleda ta romansa sa Goslingom.
Bilo kako bilo, uprkos svemu i u prkos nosu, meni se Šon Pen ovde dopao.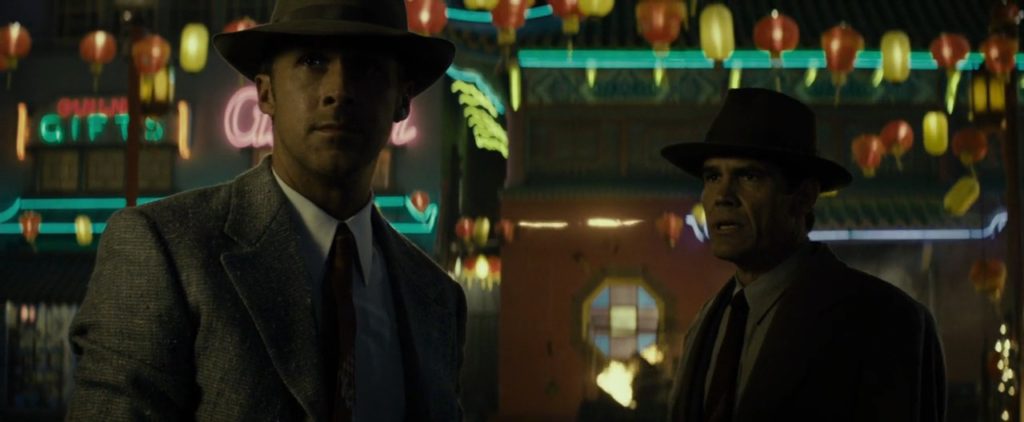 5. Šta bi bilo kad bi bilo:
Zamislimo da je ovo mnogo bolji film nego što jeste. Jeste li zamislili ? Zatim zamislimo da za ministra policije imamo nekog ko je mnogo bolji nego prethodni ministar policije. I jedno i drugo deluje nezamislivo…
Režija: Ruben Fleischer
Glume: osim već pomenutih tu su i Giovanni Ribisi, Michael Pena…
Na skali od (1-6) ocena: 2 +