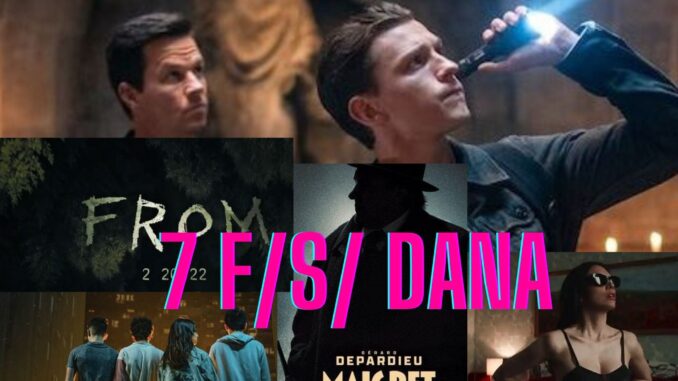 Planirana kao rubrika koja najavljuje samo narednih 7 dana, za ovo prvo izdanje zahvatiće ukupno 10 (od 18 do 28 februara)....inače,toliko toga se snima i emituje da je ovo ovde ipak samo izbor a ne sve što će do kraja februara biti prikazano
FILMOVI:
---
Dog
Rendžer kreće na daleki drumski put sa svojim vučjakom. Destinacija: Sahrana prijatelja…
[my_movie_db id=626735]
---
---
---
The Cursed
Premijerno prikazan još pre godinu dana na Sundance festivalu ovaj mali, ali kažu dobar, horor, tek je ovih dana dospeo u (američke) bioskope. Smešten u 19 vek bavi se jednom starom horor temom na jedan drugačiji način.
[my_movie_db id=630392]
---
---
---
Uncharted
---
---
A Banquet
Drugačiji pogled na anoreksiju ili je možda đavo došao po svoje (dostupno na nekoliko video strimer platformi)
---
[my_movie_db id=775400]
---
---
Virgin story
---
---
Occhiali neri aka Black Glasses
Novi film legendarnog Daria Arđenta u italijanske bioskope stiže 24 februra. Nadam se da će stari Arđento ovog puta biti stvarno bar malo onaj stari.
---
---
Gasoline Alley
Još jedan garantovano očajni film nekada poštovanog glumca poznatog po nadimku Bruno.
---
---
Cyrano
U bioskope stiže (25.02.) i nova verzija Sirana De Beržeraka, ovog puta muzička, kao što možete videti u trejleru…
[my_movie_db id=730047]
---
---
---
Big Gold Brick
Mračna komedija ? Oscar Isaak, Andy Garcia, Megan Fox, Lucie Hall u debiju Brian Petsosa. Uglavnom sva ova zvučnija imena se pojavljuju u kraćim epizodama
---
---
---
Texas Chainsaw Massacre
Od 18 februara je dostupan na Netflix-u
---
---
Maigret
U Francuskoj nam za koji dan sledi premijera nove filmske verzije o njihovom najpopularnijem detektivu "Inspektoru Megreu" kojeg ovog puta glumi Žerar Depardje
---
---
Valimai
Premijeru će imati i najnoviji bolivudski (trosatni) akcioni spektakl.
---
Serve the People
U Južnoj Koreji od 23 februara se daje novi istorijski triler. Dakle, ako ste tamo, pravac bioskop.
---
---
Na str. br. 2 nastavljamo sa pregledom novih serija koji će biti premijerno emitovane do kraja februara.