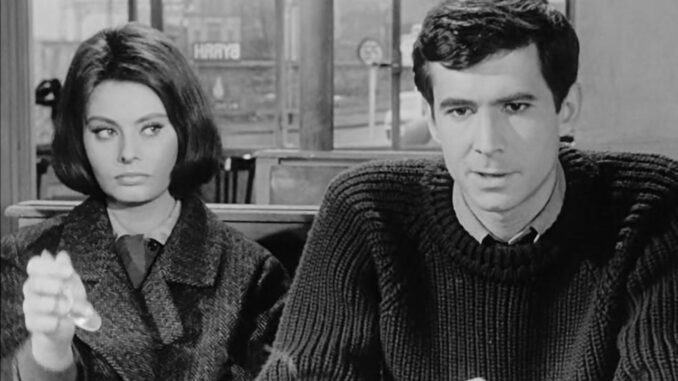 Lisa (Sophia Loren) i Robert (Anthony Perkins) su mladi bračni par pred razvodom. Naime, zamislite, Lisa ne može više da trpi fizičko i psihičko maltretiranje svoga supruga (film praktično počinje scenom u kojoj će Robert zalepiti jedan sočan šamar Lisi) te odluči da ga ostavi.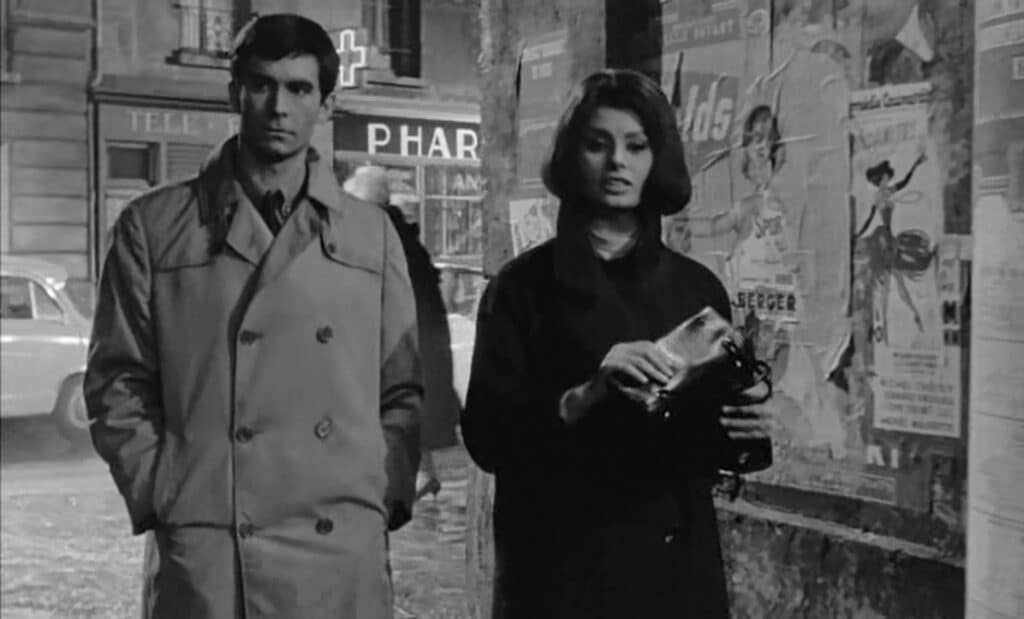 Šarmantni Robert (neki bi ga nazvali i ŠAMARtni) veruje da će mu Lisa oprostiti i da nije ozbiljna. Taman će imati vremena da ona dobro, dobro razmisli dok je on u inostranstvu na par nedelja…službeno.
Ali avaj, avion u kome je Robert doživljava nesreću i većina putnika biva proglašena mrtvim…jer i jesu mrtva. I Lisa veruje da joj je suprug mrtav.
Ali avaj…nije.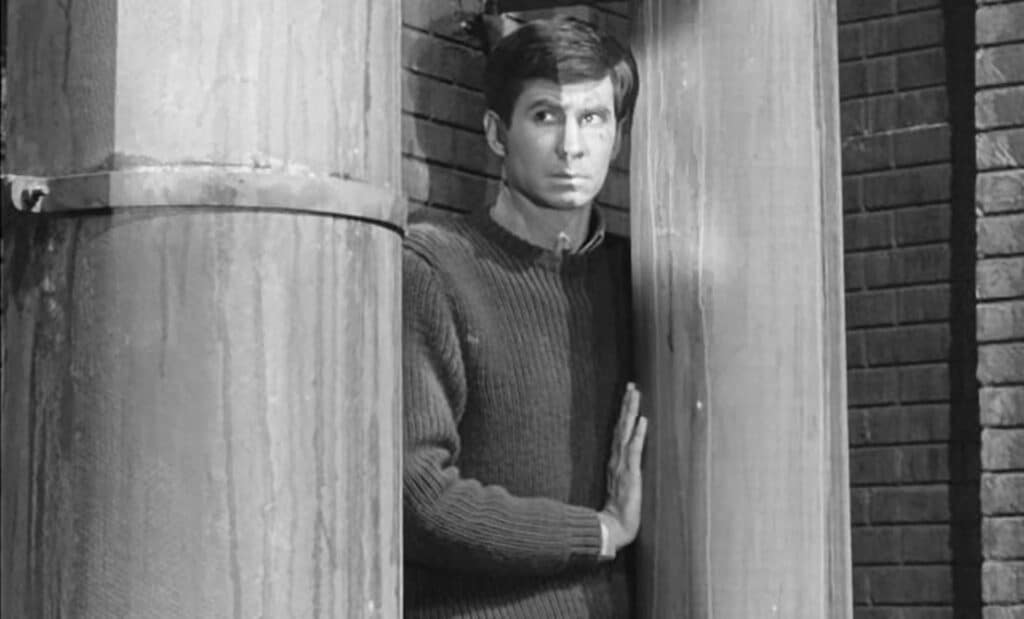 Slatkorečivi Robert se jednog dana pojavljuje na Lisinim vratima i uspeva da je, uz šarm ali bez šamara, ubedi da Lisa bude samo strpljiva neko kratko vreme dok joj se ne isplati njegovo životno osiguranje. Tada će biti dovoljno da mu preda ček/pare i on će zauvek nestati iz njenog života.
I njemu se smučio život u Parizu…pored Sophie Loren.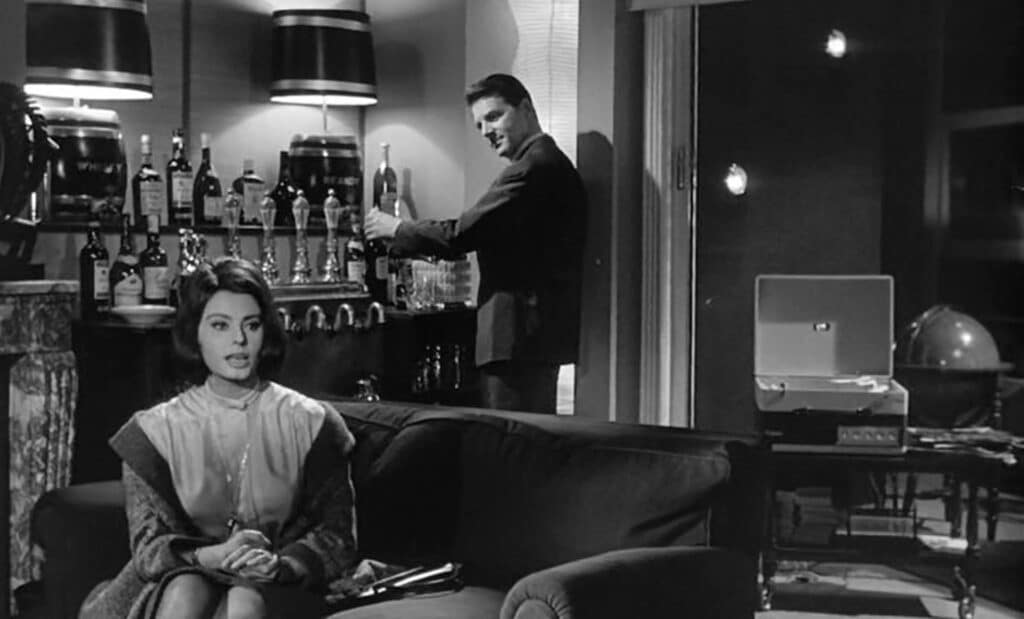 Znamo svi da je Robert čovek kome možemo verovati na reč. Što bi rekli, čovek od poverenja…i od šamara. Plus, ima taj tipični Perkinsovski, gotovo dečiji, poletni neodoljivi duh…kao u Psihu.
Režiser "Five Miles to Midnight" je bio, tada već veteran, Anatole Litvak koji je iza sebe imao neke zanimljive filmove (verovatno najpoznatiji je "Anastasia" o sudbini navnodno poslednje preživele članice ruske carske porodice i u kome je (filmu) Ingrid Bergman zasluženo dobila svog drugog oskara).
Dakle veoma, veoma dobra ekipa bila je angažovana u ovoj evropskoj produkciji ali krajnji domet je tek nešto više od proseka.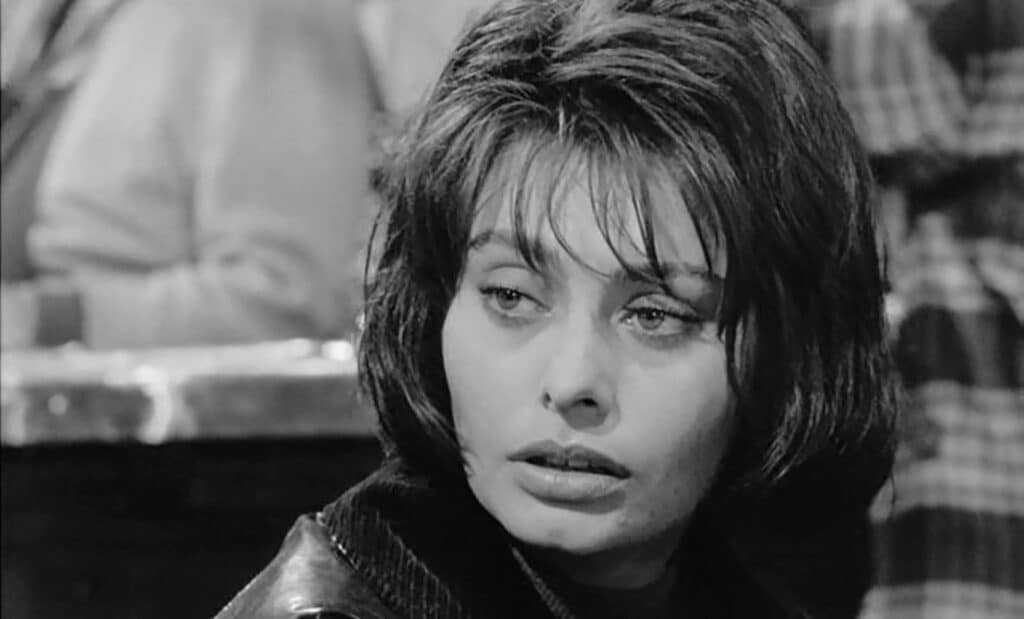 Ova noir drama jedostavno nije dobro "naštimovana". Neke osnovne postavke zapleta koji služe da naši likovi preduzmu određene sudbonosne radnje nisu dovoljno uverljivo prikazane te zbog toga i emotivna završnica nema onu snagu koju bi imala da je to određeno bolje.
Five Miles to Midnight | December 12, 1962 (France)
6.3
Photos
See all photos >>
Glumci jesu dobri, Litvak se trudi da sa nekim neobičnim kadrovima udahne taj neki art (iliti francusko novo talasni) prizvuk ali kao celina ovo je projekat koji je sa pravom ostao zaboravljen…
Na skali od (1-6) ocena: 3