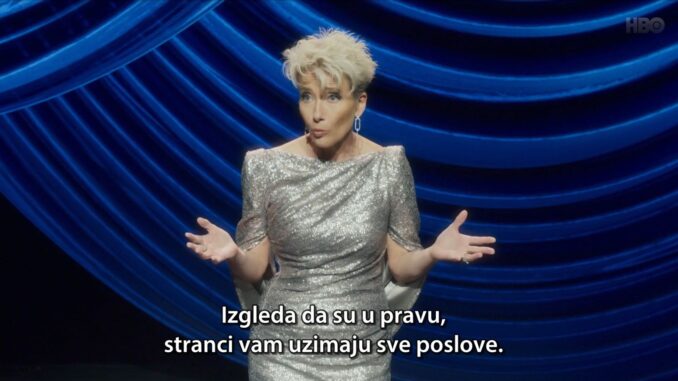 "Late Night" je zanimljiv film iz dva aspekta (btw. aspekt je jedna od omiljenih reči Bozze Vampira iz Zemuna…od onih stotinak koje inače zna ).
Prvi: lepo je videti Emu Tompson (Emma Thompson) u top izdanju. Mislim pre svega na fizičko. U poslednje vreme sve je gledam u nekim filmovima u kojima ako i ne nosi neku masku (serijal Hari Poter) onda je nenašminkana i nekako neugledna (Last Christmas (2019)). Ema ima šezdeset i jednu godinu i u ovom filmu izgleda fenomenalno. Bravo Ema !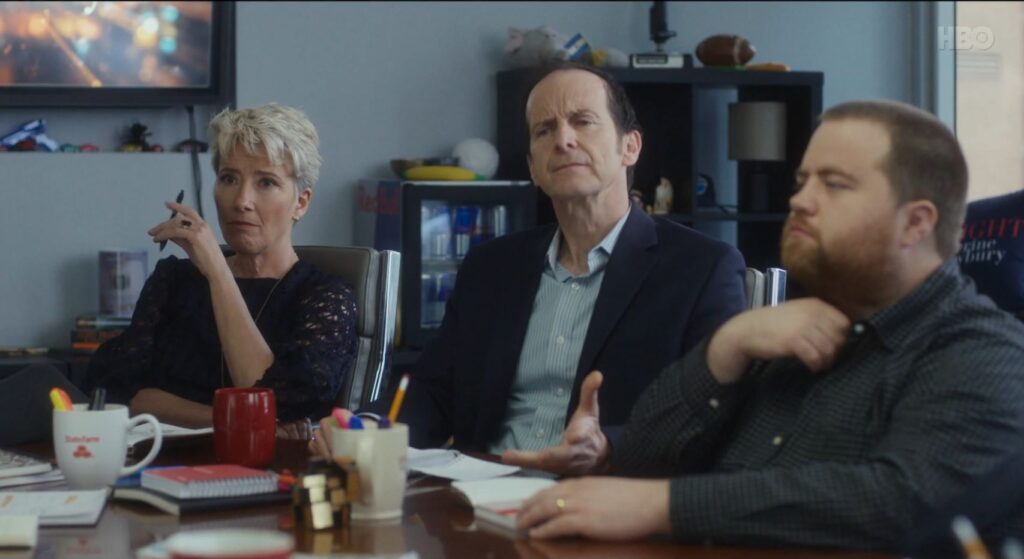 Drugi: Ako vas interesuje kako se pripremaju ove talk-show-late-night emisije i kakva sve mašinerija stoji iza kulisa, "Veče sa Ketrin" će vam biti dobar vodič.

Glavna zvezda filma ipak nije Ema nego Mindi (Mindy Kaling) koja je i napisala i scenario za "Late Night". Ovu glumicu, stand up komičarku, kompletnog autora (piše knjige, scenarija, povremeno čak i režira), moguće da znate iz nekoliko uspešnih TV serija (Office i The Mindy Project).
Na velikom filmskom platnu igrala je uglavnom epizodne uloge u komedijama poput The Night Before (2015) i "Late Night" joj je prva glavna… i "zvezdana".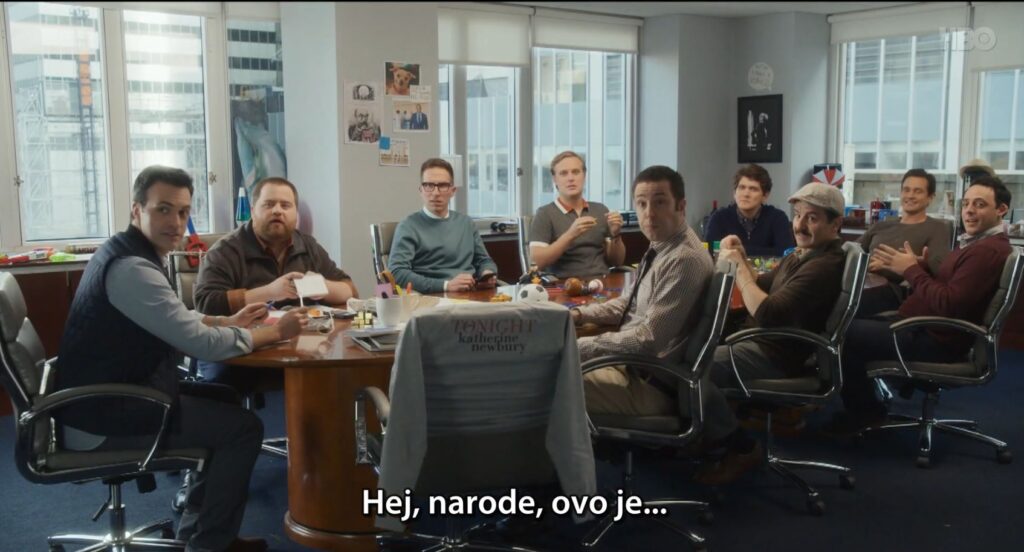 Mindi je ovde Molly Patel koja sticajem okolnosti dobija priliku da bude jedan od scenarista popularnog talk show-a "Tonight with Katherine Newbury". Da budem precizniji, taj sticaj okolnosti podrazumeva njeno poreklo (Indijka) i činjenicu da je žena. Dakle, od početka shvatamo da će žaoka filma biti uperena na aktuelne političko socijalne teme…i dileme.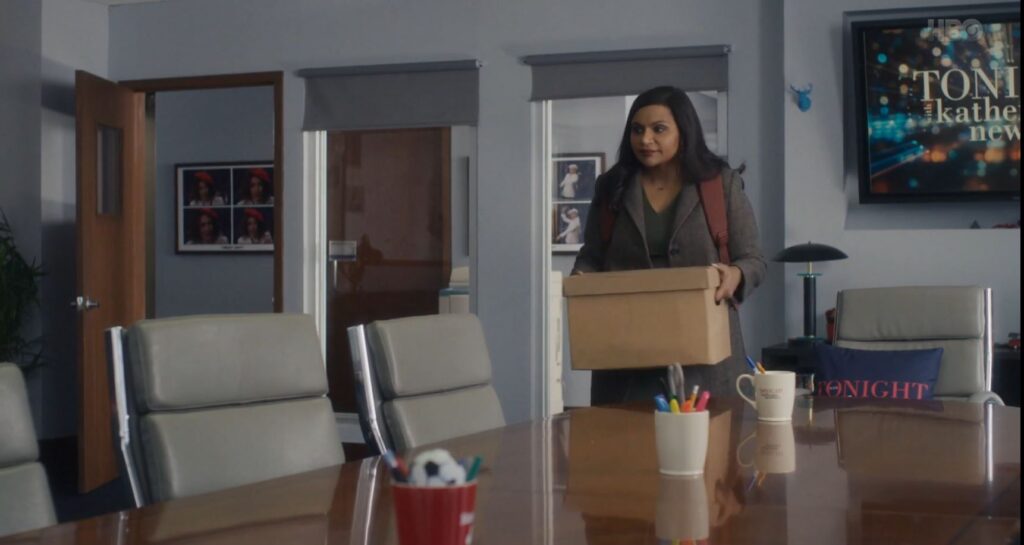 Ali, ovako ispričano, možda vam to stvarno deluje zanimljivo i, sasvim moguće, provokativno.
Od Provokacije gotovo da nema ni slova P. Mindy nije (ili nema hrabrosti da bude) Ricky Gervais ili Dave Chappelle. Sve te "žaoke" su ćorci i čitava taj "politički" angažman, ta socijalna satira donosi malo humora i puno i previše trljanja (nosa… ).
Mindy ovde u stvari vrši diverziju i sve ono što se navodno kritikuje u "Veče sa Ketrin" maksimalno je propagirano. Toliko da se film (a i publika sa njim) povremeno davi u lekcijama kojima nas "uče".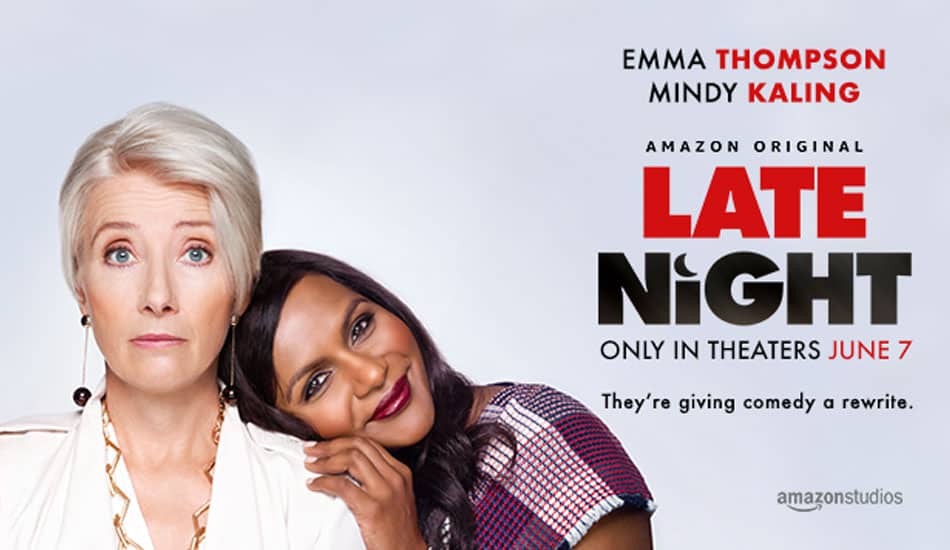 Ni paralelne priče /romanse između Mindy i kolege/kolega ne funkcionišu baš sjajno te, nažalost moram reći, Mindy tj. njen lik ispade i najslabija karika ovog filma. Skloni se Mindy…dosadna si…hoću da gledam Emu….
Sve sa Emom je i zabavno i sentimentalno i zanimljivo pa je upravo ona taj tas na vagi zbog kojeg "Late Night" preteže na stranu dobrog…
Na skali od (1-6) ocena: 3 –