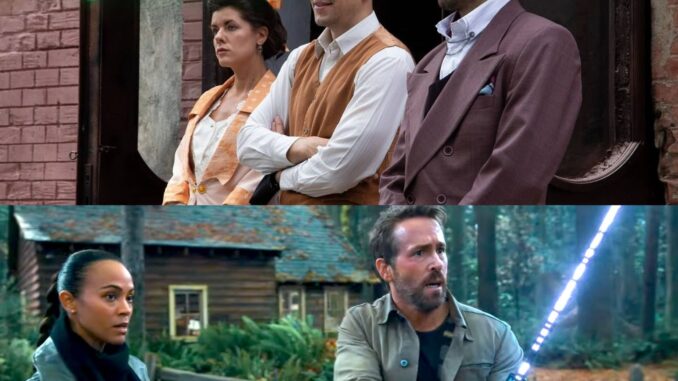 PRETHODNA NEDELJA (01-08 mart)
FILMOVI:
---
Bilo jednom u Srbiji
Pošto u Americi ni jedan film nema hrabrosti da se suoči sa Betmenom te tamo praktično nemamo ni jednu veliku premijeru ove nedelje, bilo je potrebno da jedna mala Srbija ponudi nešto svoje, nešto najbolje što ima.
Sama produkcija ovog filma je prošla kroz raznorazne muke ali se na kraju pojavio Petar Ristovski kao spasilac. Petar je sin svog oca Lazara i karijera ovog, verujem najtalentovanijeg našeg mladog režisera, krenula je izuzetnom uzlaznom linijom poslednjih 10 godina.
Šta reći kada u trenutku kada mu ovaj film doživljava premijeru on već snima sledeći a već je najavio i film nakon njega.
[my_movie_db id=920060]
---
---
---
Murder Party
Francuzi imaju čak dve premijere u narednih nedelju dana. Ova prva mi deluje simpatično
[my_movie_db id=8627340]
---
---
---
Goliath
a i ova druga može biti zanimljiv triler. Glumi Pierre Niney iz "Crne kutije"
---
---
The Adam Project
Najambiciozniji od svih ovih filmova imaće premijeru na Netflix-u 11 marta.
---
---
Turning Red
Ovaj Pixar crtać definitivno će završiti odmah na Disney+ platformi 11 marta. Već treći po redu Pixar-ov projekat koji je doživeo ovu neslavnu sudbinu u Americi. Na sreću naši klinci će imati priliku da ga vide u bioskopu
SERIJE:
---
That Dirty Black Bag (AMC+)
Vestern serija sa Dominic Cooper-om kompletno snimljena u Evropi pre svega na lokacijama sa kojih su nam stigli najpoznatiji špageti filmovi. Italijan je režiser te ako ovo bude bar nalik na Leonove/Korbučijeve klasike obavezno gledam.
---
The Last Days of Ptolemy Grey (Apple TV+)
Semjuel Džekson.
---
---
Kao što možete videti prilično siromašna nedelja što se tiče serija. Razlog tome je što se ovde bavimo isključivo premijerama.